About Jeewaka Weda Niwasa
Dr. Mrs. Geetha Janaki Herath is a well recognized Ayurvedic doctor in Sri lanka who giving her service to thousands of patients throughout Sri Lanka as well as foreign countries.
Her own natural Ayurvedic Treatment center"JEEWAKA WEDA NIWASA", is giving very important benefaction to their patients very much.
''A child is the greatest hope of a married couple.''
Jeewaka weda Niwasa is a well-established and standard place opened for those thousands of local and foreign people willing to have a baby.
Her all treatments are depending on hereditary Ayurvedic treatment system and that is the one of main secret of her huge success.
Dr. Mrs. Herath accepted this challenge and her years of experiences put a huge foundation to achieve a huge success. Today every one can see her huge service as well as her success from different angles.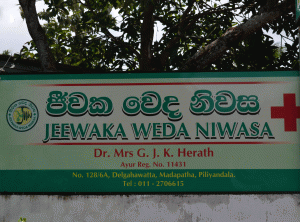 Dr. Mrs. Geetha Janaki Herath is a;
Registered aurwedic medical practitioner
Who has fulfilled the qualifying requirements, the degree of Doctor of Philosophy
Who has fulfilled the qualifying requirements, the degree of Doctor of Medicine (Medicina Alternative)
Having successfully completed the course and examination in Acupuncture theory & practice
Successfully completed Pharmacist External Exam
Well educated in Homeopathy Medicine
Acupuncture MD and PHD
---
No. 128/6A, Delgaha Watta, Madapatha, Piliyandala, Sri Lanka